World Bank Land and Poverty Conference
Partners from three different clusters under the EO4SD initiative participated at the World Bank's Land and Poverty Conference 25-29 March 2019 in Washington D.C. The conference gathered more than 1.500 participants, including representatives from governments, the private sector, academia and civil society. The topic in question was land governance, and the latest research and innovation in policies and good practices were presented. Representatives from the agriculture and rural development cluster, the urban development cluster and the fragility, conflict and security cluster were attending the conference.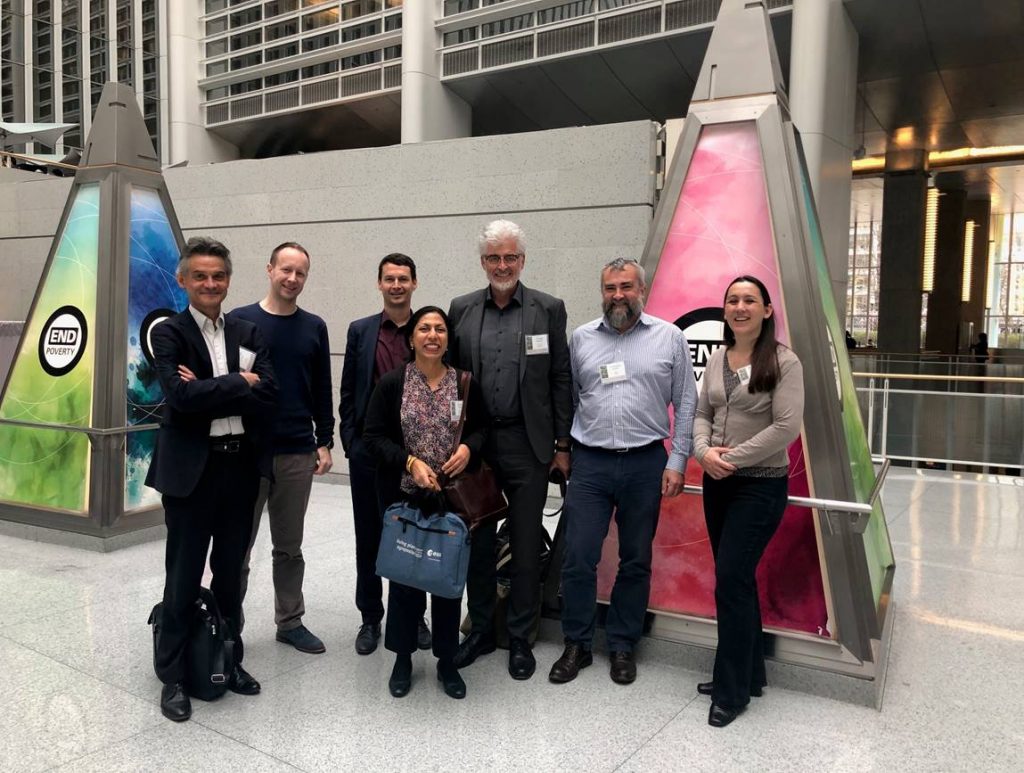 The EO4SD Agriculture consortium was represented by eLEAF. One poster highlighted how to mainstream satellite Earth Observation (EO) in agricultural development with examples from different client states. Another poster demonstrated how earth observation could be used to assess the impact of conflict on agricultural production in Syria and Yemen. The Land and Poverty Conference was an excellent opportunity to meet stakeholders and reconnect with World Bank (WB) staff involved in the demonstrations of EO for agriculture applications. Furthermore, the agriculture consortium had 12 bilateral meetings with WB staff on opportunities and limitations of earth observation for development projects related to agriculture and water.
CLS/SIRS were attending on behalf of the EO4SD Fragility, Conflict and Security consortium. They presented the framework of their project, focusing on how EO can be useful for the World Bank groups involved in topics related to land and poverty during the preparation, implementation and evaluation phases of their activities. An overview was given of selected demonstrations such as support to land cadastre/tenure reorganization, monitoring of displaced populations and environmental stress assessments.
The EO4SD Urban consortium collaborated with their counterparts at the World Bank in a lunch session, arranged by the Global Platform for Sustainable Cities (GPSC), the City Resilience Programme (CRP) and ESA on the topic "Satellites in Action: How Geospatial Data Can Create Resilient and Sustainable Cities". The objective of the session was to demonstrate how geospatial data can be used in different urban development stages to improve planning and resilience, and to help cities achieve sustainability. The session was well attended and there were valuable discussions on the utility of geospatial data for urban applications.
Additionally, the EO4SD Urban project and results were presented in a separate session at the conference to introduce the use of geospatial data for National Urban Policies and Plans, which cities are implementing as part of the UN Habitat III.